The Giant Turtle, also commonly known as the Turtlesaurus, is a Tier 2 dino from the Forest biome.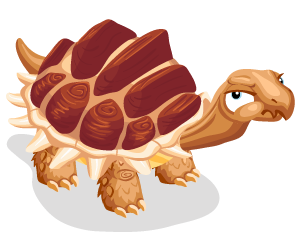 Adult Giant Turtle
Below are two different dioramas featuring the Giant Turtle. 
Which do you like best? 
Dino-Diorama featuring the Giant Turtle
All these dino-dioramas will eventually be housed in the Museum of Dinosaurs, Beasts and Chimera once the renovations there are complete.
Life Stats for the Giant Turtle

Species Name: Turtlesaurus

Common Name: Giant Turtle

BiomeID: Jungle or Forest-2;        Tier: 2

Rarity Group: Rare

Probability: 1

Hatch Time: 10 hours, Hurry Hatch: 10 crystals

Cost: 269 Crystals

Descriptions: 

  

1. 

Is calm and wise





  2. 

Likes long walks





  3. 

Dislikes being rushed


Professor OneStone
Here are some additional snapshots in various life stages, from egg, to baby, then toddler and teen.