Introducing a Light recolored version of the familiar Spooky Halloween Dragon. This legless creature sports prominent blue horns, a blue bird-like beak with teeth, giant ivory bat-like wings with a single blue claw each, blue spikes along the back and a segmented body with a bright blue belly and a green band along the back. 
First Appearance: Tuesday May 20th 2014 in the Sunken Treasures Pack. 
Adult Form for the Light Dragon

Below, we see an awesome Dino-Diorama featuring a family of these fabulous beasts.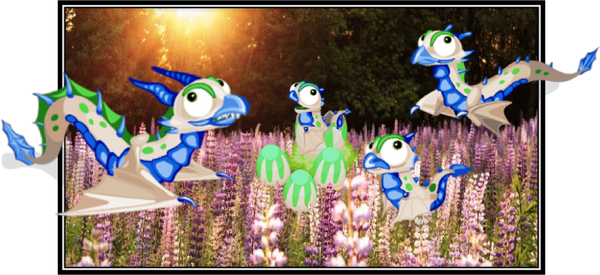 Dino-Diorama featuring a family of Light Dragons. 
Dino Biodata
Edit
Life Stats for the Light Dragon

Species Name: SpookyHalloweenDragonLight

Common Name: Light Dragon


BiomeID: Cloud;        Tier: Air, Tier 3 (but says 4)

Rarity Group: Shiny

Probability: 0, Sorry can't get by random egg. 


Hatch Time: 16 hours, Hurry Hatch: 10 crystals


Cost: Value of spookyhalloweendragonlightcost


Descriptions: 
  1. 

Is always ready for fun!


  2. 

Wants to be a doctor!


  3. 

Loves to chase his own tail!




Those dragon pups are sure cute, but keep your eyes open! They just love to blow sparks up your tail!

Professor OneStone

(somewhat distressed)

Here are some additional snapshots in various life stages, from egg, to baby, then toddler and teen. 
For comparision purposes, here are similar portriats for the familiar Halloween dragon. While incubating, the beautiful pumpkin-orange and green dragon eggs closely resemble a pumpkin growing in a patch. 
First Appearance: The Spooky Dragon was introduced on Tuesday October 22nd, 2013 as the grand prize for the Mystery board for Haunted Bingo. Once all four tiles of the required pattern are complete, the winning egg will be dropped into your Dino Den's egg inventory. Although the description says "Air - Tier 4", it acts just like a Tier 3 dino during dinofusion.